What's the collective noun for hats? "Herd"? "Flock"? "Mob"? "Head"? Or, in my case, "parliament", or even "pandemonium" may even soon be appropriate. I can't seem to stop knitting them.
~
Jeg har arbejdet på to nye hue-design, et med et lace-mønster fra en japansk mønsterbog, og et i farvestrik, som jeg kom frem til ved prøvestrikning, Ja, jeg strikkede rent faktisk en prøve.
Brisingamen er inspireret af et japansk mønster, og er dobbelt over det hele. Indersiden er strikket i Bestla, en 35/65 blanding af silke og merino, mens ydersiden er strikket i Norne, mit 1-trådede rene uldgarn. Det tog altså nogle grublerier at finde på en måde, hvor både kanten og resten af huen kunne blive dobbelt – i sidste ende blev løsningen to midlertidige opslagninger. Det lyder måske indviklet, men det er altså ikke slemt, og resultatet taler for sig selv. Fordi strikkefastheden er lille ender den dobbelte hue med at være tynd, men varm og endda nogenlunde vindtæt.
Her er Dagmar på en snevejrsdag for nogen tid siden. Prototypen, som er strikket i ufarvet garn, blev for lille til mig, men den passer hende perfekt.
I've been working on two new designs for hats, a lacy one that leapt out at me from a Japanese pattern dictionary, and one in stranded knitting that came about by swatching. Yes, swatching.
Brisingamen is inspired by a Japanese pattern, and knit in two layers all over. The entire inside is knit in Bestla, a 35/65 mix of silk and merino, the entire outside is Norne, my 1-ply pure wool lace yarn. It took a bit of hard thinking to come up with a way to line both the hem and the rest of the hat – in the end, I went with two provisional cast ons. That may sound incredibly complicated, but it's really not. And the result really is excellent. Since the gauge is small, the double fabric is thin, but very warm, even when it's windy.

Here's Dagmar on a snowy day a while ago, wearing the first prototype, knit in undyed yarn. It turned out too small for me, but fits her just perfectly.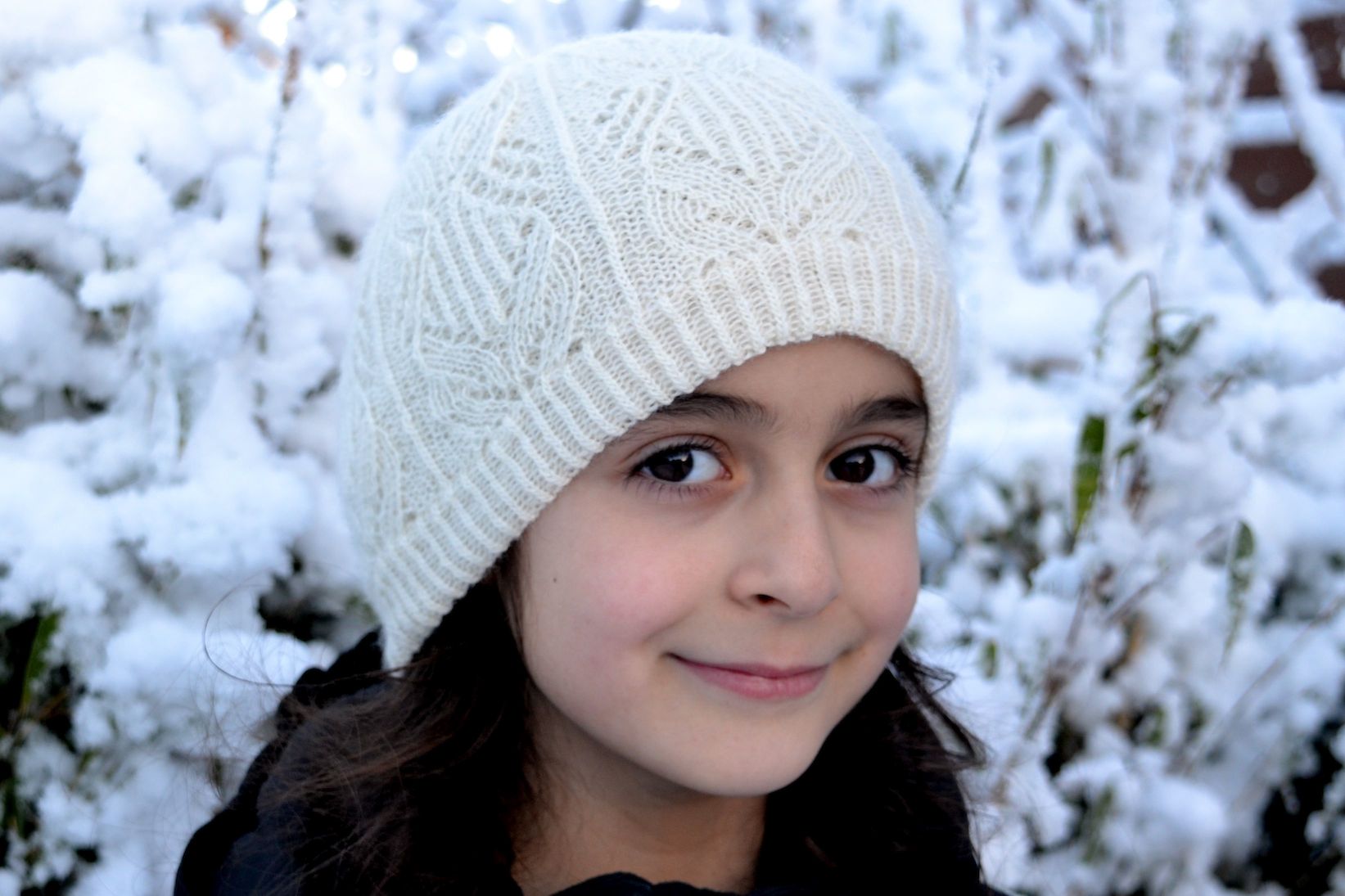 Til voksenstørrelsen lavede jeg små ændringer. En tredobbelt snoning i stedet for den enkelte række snoede masker mellem motiver gør huen lidt større, og ribben er længere. Her er den næsten færdige voksenhue, farvet i 1:1 krap. Ren uld tager imod krapfarven på en lækker måde – silke-merinoen tager imod lidt anderledes, men ikke mindre lækkert. Det er måske den skinnende silke, der ændrer udtrykket.
For the final version, I only had to do small recalculations. A triple cable replaces the single line of twisted stitches between motifs, and the rib is longer. Here it is, almost done, in yarn dyed with 1:1 madder. I've dyed with madder on pure wool so many times, and still love how it takes the color. Silk merino takes the same dye in a slightly different, no less delicious, way. Perhaps it is the silk sheen that alters the look just slightly.
Folkvang er inspireret af mønstre fra Bohus strik, og er en hue i baskerfacon. Siden jeg første læste om Bohus-mønstre har jeg haft stor appetit på dem.
Og denne gang strikkede jeg simpelthen en prøve for at afprøve mønstre. Først ville jeg have buede former, og det er sådan prøven begynder (til højre). Men buen ville ikke som jeg ville, og jeg indså også, at man skal strikke med 3 farver for at få en bue, der adskiller 2 forskellige baggrunde. Jeg hader at strikke med 3 farver samtidig, så prøven fortsatte med rektangler.
Først en hvid rektangel på blå og grøn baggrund. Fin nok, men vrangmaskerne på langsiderne tilføjer ikke noget. Så en blå rektangel på beige baggrund. Nu er der vrangmasker indeni, og det gør udtrykket mere interessant. Det gik den rigtige vej! Så skiftede jeg til hvid baggrund, beholdt den mørke indigo som mønsterfarve, og tilsatte et skriggrønt bånd i baggrunden. Jeg nåede frem til det helt rigtige, da jeg lod den hvide farve komme ind i rektanglen, og blødte det skriggrønne bånd op med et par runder beige omkring.
Folkvang is a tam that was inspired by Bohus patterns. Since I first read about Bohus patterns, I've wanted to make something using them as a starting point.
I started swatching to try patterns out. In the beginning, I wanted an arched pattern, so that's how the swatch starts out (right side). But the arch didn't behave, and I realized that you would have to work 3 colors in one row to make an arch that separates areas with two different background colors. I hate knitting 3 colors at a time, so I continued the swatch with rectangular shapes.

First, a white rectangle on a blue and green background. It's OK, but the purl stitches on the long edges don't add anything. Next, a blue rectangle on beige background. Purl stitches inside the rectangle add texture that makes the pattern more interesting. Now, I was on to something. I changed to white background, kept the dark indigo blue as the contrast color, and added in a bright green band of background color. I was getting close, and was finally happy with the pattern when I let the white background peek into the purled inside of the rectangle, and softened the bright green with a bit of beige.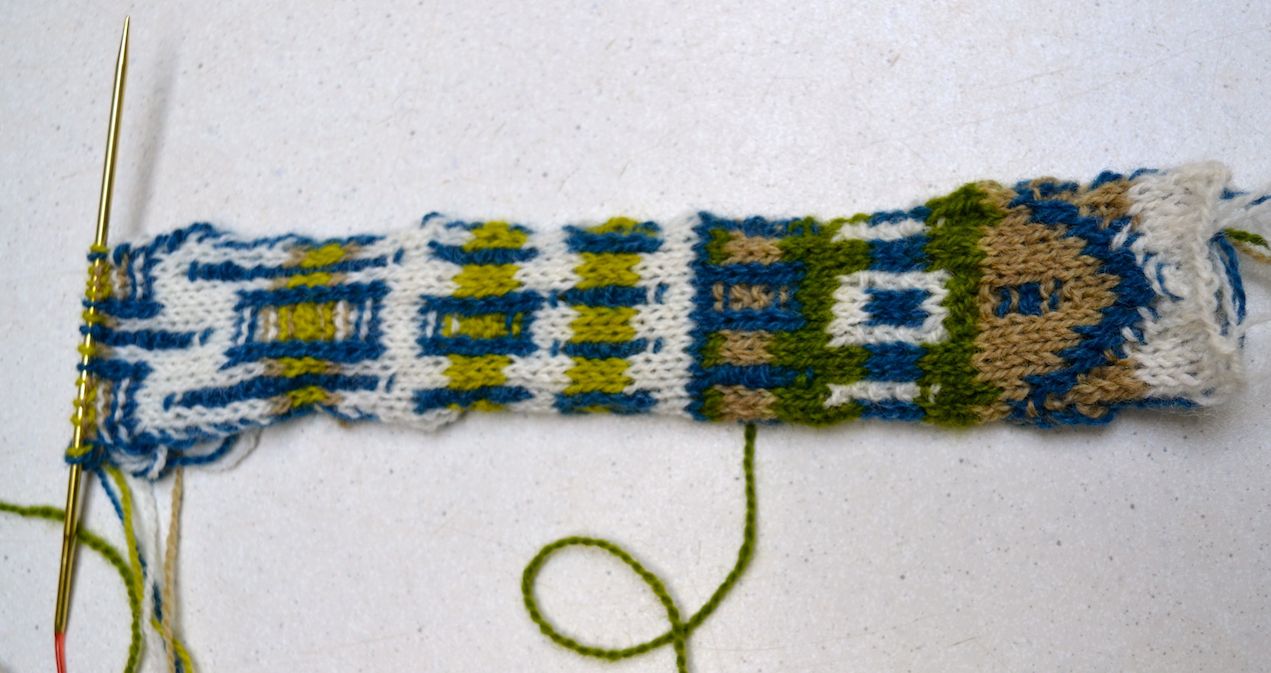 De lodrette liner af blå vrangmasker tiggede jo ligefrem om at blive forlænget med en farvestrikket rib, så det var hvad jeg gjorde:
The vertical lines of blue purl stitches just beg to be lined up with purl stitches of a corrugated ribbing, so that's what I did: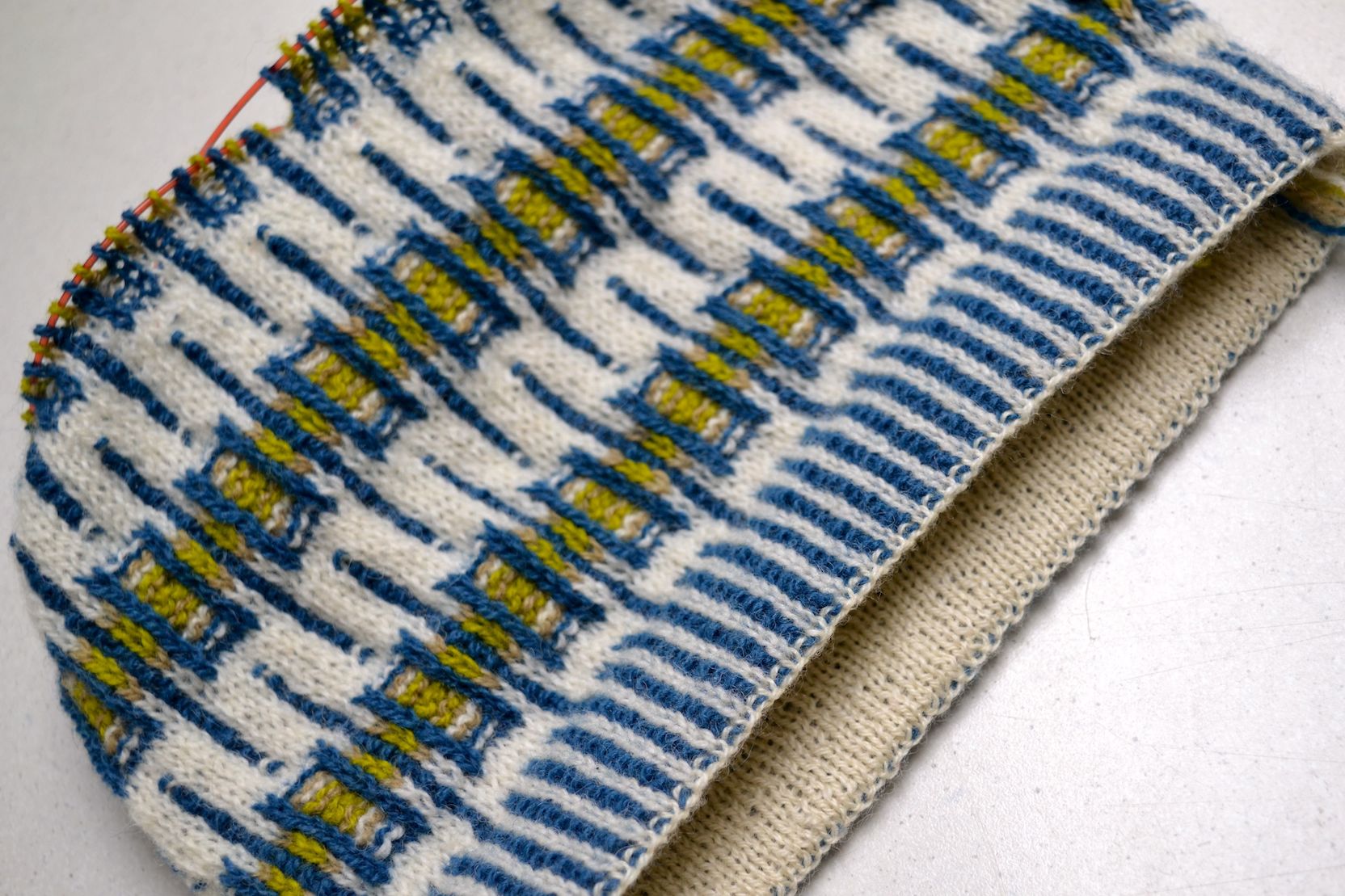 Kanten er foret med silke-merino. Ydersiden er nemlig strikket i Fenris, som er fremragende til farvestrik, men ikke specielt blødt.
Jeg ville ikke bryde den farvestrikkede rib på overgangen til resten af hatten, så jeg brugte en ny (tror jeg?) sammenstrikning til kanten.
På billedet nedenfor er den farvestrikkede rib forrest. Den midlertidige opslagning er pillet op, og maskerne derfra sat på en pind, som er bag arbejdet. Så holder jeg garnet som sædvaneligt til farvestrik (blå forrest på fingeren, fordi den er dominant, og den hvide bagved) og strikker vrangmaskerne vrang med blå, og strikker 3 masker sammen ret med hvidt, en fra forreste pind og to fra den bagerste. På den måde bliver søjlerne af vrang ikke brudt, og universets orden er opretholdt.
The hem is lined with silk-merino. The outer part is knit in Fenris, which is excellent for color knitting, but really not that soft.  
In order not to break up the corrugated ribbing when progressing from the hem to the main body of the hat, I used a new (I think?) way of closing the hem in color knitting.
In the photo below, you see the corrugated ribbing in front. The provisional cast on is undone, and the live stitches put on a needle, sitting behind the work. Now, holding the yarns appropriately for color knitting (blue is my dominant color, so it's towards the left because I knit continental), I purl the purl stitch with blue, then knit together 3 white stitches with white, one from the front needle and two from the back. This leaves the purl columns unbroken, very satisfying to the obsessive knitter.