Nedfalds-lav er perfekt til naturfarvning, det gør nemlig ingen skade at samle det nedfaldne lav op – det kan alligevel ikke gro videre. Tue-grenlav er en af de almindelige arter, som også er let at genkende.
~
Når jeg går tur på blæsende regnvejrsdage finder jeg tit masser af lav, der ligger spredt på jorden under træer. Lav, som vinden har flået af grenene. Efter en god storm har jeg nogle gange fyldt alle mine lommer plus tilfældige skraldeposer med sådan noget nedfalds-lav. Det skønneste nedfald, med den fantastiske duft som kun lav har.
Indsamling af nedfalds-lav gør ingen skade, for lav-totter, der er flået ned kan alligevel ikke vokse videre. Så det er den bedste (nogle vil sige den eneste) måde at finde lav til farvning. Når jeg kommer hjem med sådan en skat plejer jeg at sprede lavet ud på en bakke til tørring (så det ikke bliver muggent).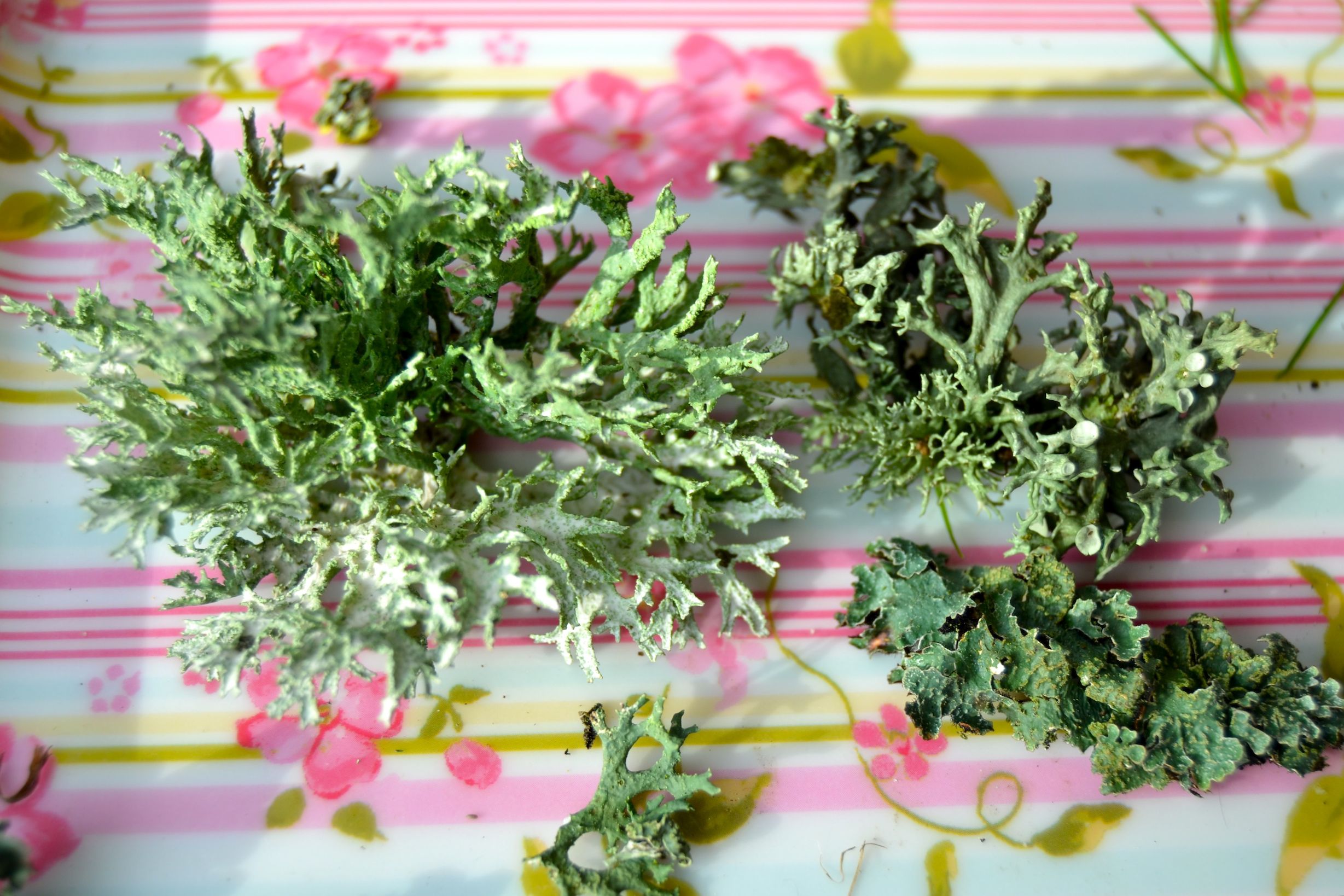 Før man kan farve med nedfaldslavet, er det nødvendigt at sortere det og bestemme arterne. Med nogle arter skal man nemlig bruge en simpel kogning i vand (BWM), mens andre skal trække i ammoniak:
Kogning i vand er selvfølgelig det letteste. Lavet simres i vand og køler af. Garn tilsættes til dette farvebad, og opvarmes en timestid uden at koge.
Ammoniakmetoden er noget mere besværlig. Lavet trækker i 1% ammoniak (oprindeligt brugte man gammel urin) i flere uger eller måneder. Glasset rystes og åbnes dagligt for at ilte væsken. Den røde væske bruges til sidst som farvebad.
I begge metoder er det unødvendigt at bejdse garnet, da lavets farver er substantive (de kan altså binde direkte til uldfiberen uden bejdsning).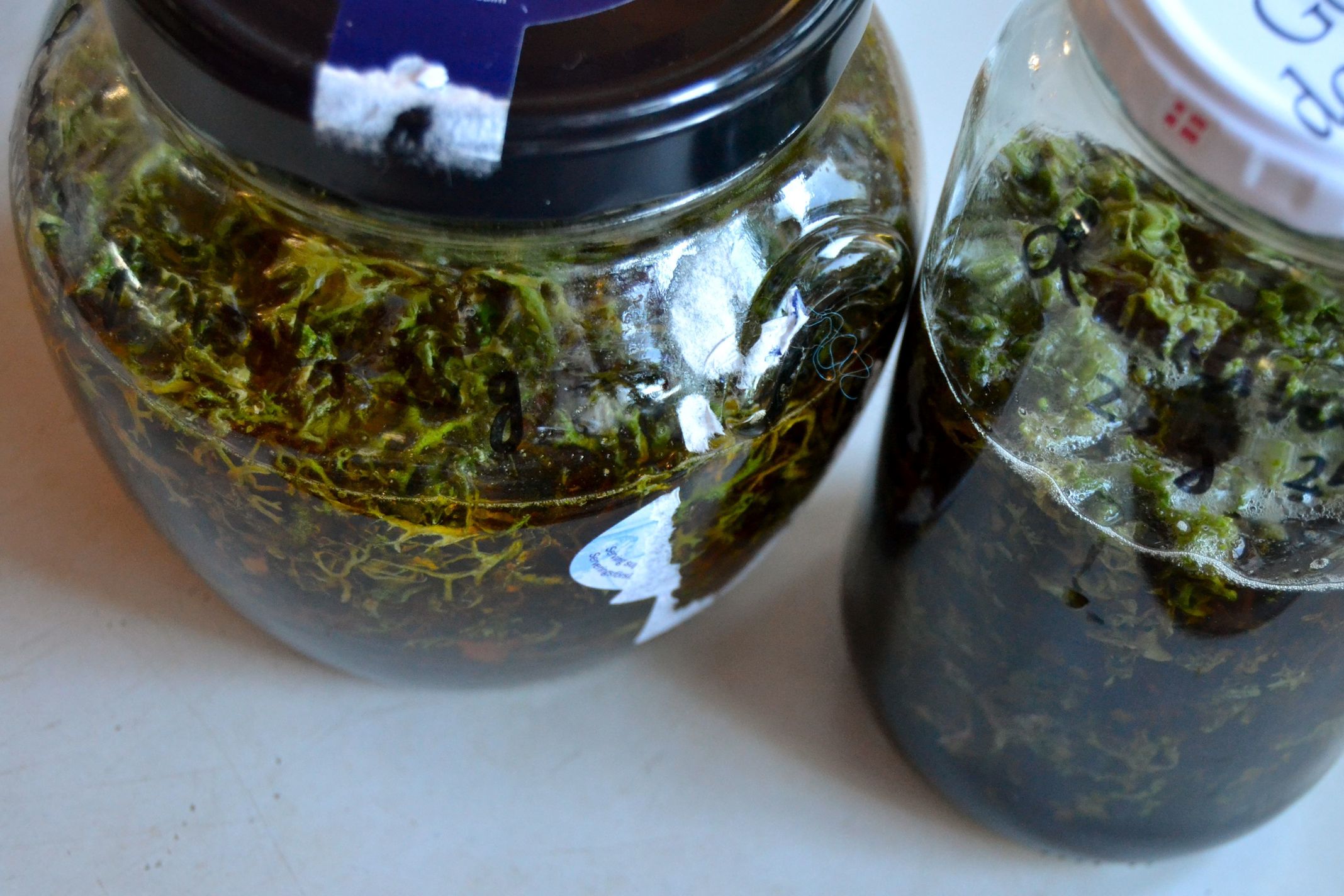 For at kunne artsbestemme lav købte jeg for nylig Frank S. Dobsons bog "Lichens, An Illustrated Guide to the British and Irish Species". Den indeholder en god introduktion til lav, og en detaljeret bestemmelsesnøgle med beskrivelser og fotografier.
Med Dobson i hånden har jeg tænkt mig at kigge lidt nærere på de slags lav, der typisk falder ned fra træerne heromkring. Altså, hvordan man genkender dem, hvilken farvemetode der skal bruges, og hvilke farver det giver.
Jeg begynder her med den slags lav, der måske er allerlettest at genkende, og også meget almindelig: Ramalina fastigiata, eller tue-grenlav. Den falder tit ned i større totter, som er helt dækket af udvækster, der ligner små sugekopper. Det er apothecier, som er lavets frugtlegemer. De laver kønnede sporer, som kun indeholder lavets svampedel. Når de spreder sig og spirer et nyt sted skal de mødes med en ny alge for at blive til et nyt lav-individ. Men alt det behøver farveren strengt taget ikke at bekymre sig om, bare man kan genkende apothecierne.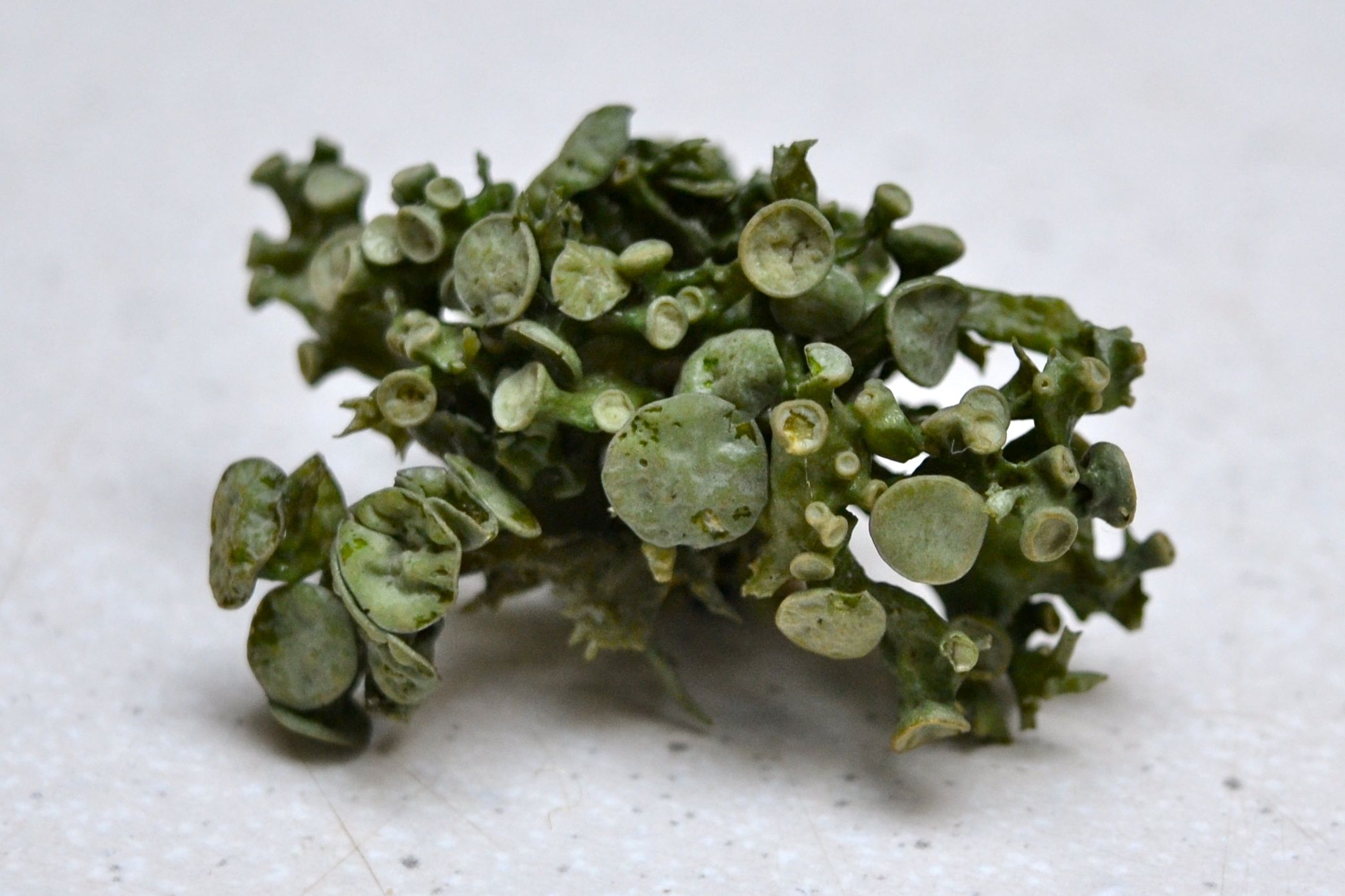 I "Lichen Dyes, The New Source Book"opfører Karen D. Casselman Ramalina-arterne på listen over laver, hvor man skal bruge ammoniakmetoden.
Jeg har tidligere afprøvet denne metode med Ramalina fastigiata, og fik en lys rosa farve (billeder her).
Men Ramalina-arterne står faktisk også på listen over de arter, hvor man kan bruge den simple varmtvandsmetode. Derfor afprøvede jeg den simple metode med lige mængder Ramalina fastigiata og garn, men det gav absolut ingen farve (ingen billeder!). Konklusionen er, at Ramalina fastigiata hører strengt til ammoniak-arterne.