Bruskbolde indeholder et gul-brunt farvestof, men også en irriterende masse af bittesmå, sorte sporer. Jeg bestemte mig for at finde ud af, om sporerne indeholder nogen farve, eller om de bare kan smides ud.
~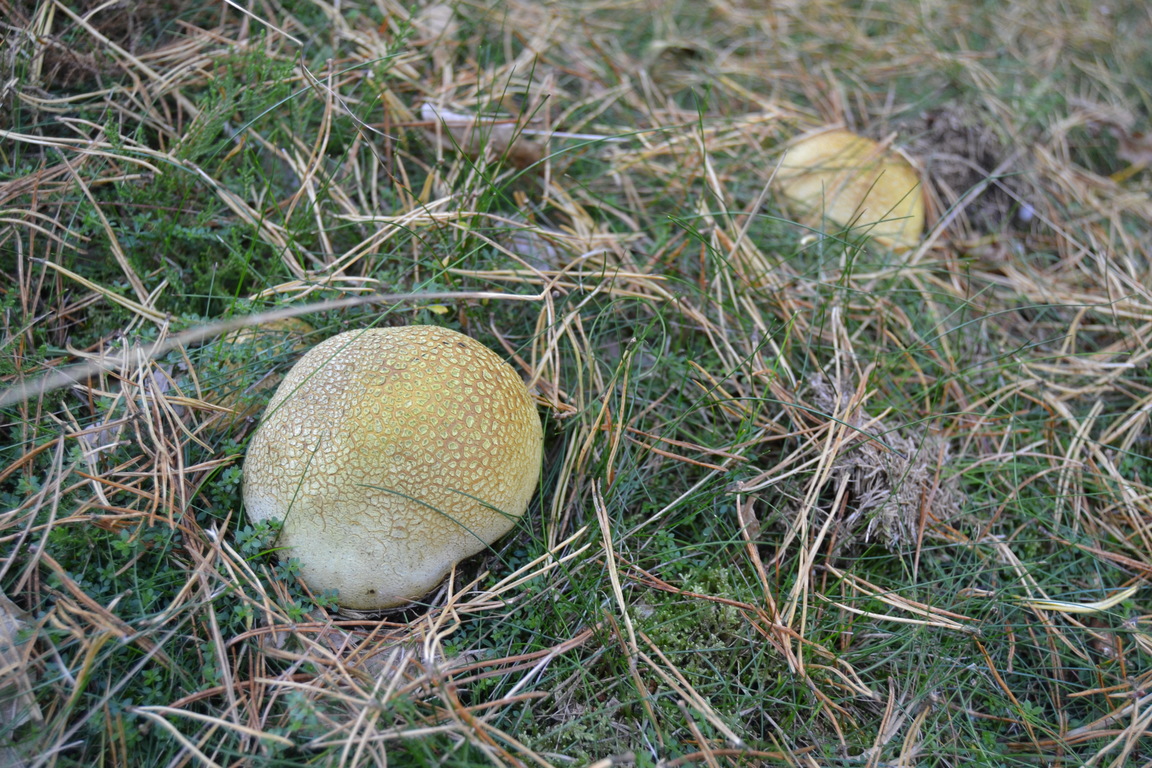 Forrige år farvede jeg en masse garn med bruskbolde. Det fik en dejlig gulbrun farve, men det var simpelthen fyldt med sporer, der blev ved med at drysse ud, både da jeg vandt garnet op, og da jeg strikkede det.
Men ud over at det var irriterende, så begyndte jeg også at overveje om sporerne overhovedet er sunde at indånde? Man plejer jo at sige, at bruskbolde er let giftige.
Bruskbolde er ellers hvad Lundmark & Marklund i "Färgsvampar & svampfärgning" kalder en "god farvesvamp", så det ville være synd at droppe den pga. sporeproblemet. De nævner, at den indeholder farvestofferne badion A, norbadion A og sclerocitrin.
Sclerocitrin kan man også læse om i denne forskningsartikel: "Unusual Pulvinic Acid Dimers from the Common Fungi Scleroderma citrinum (Common Earthball) and Chalciporous piperatus (Peppery Bolete), Angewandte Chemie International Edition, 2004, 43, 1883-1886 af Winner et al. De viser, at det "stærkt gule" farvestof sclerocitrin findes i "store mængder" i bruskbolde. Bemærk også fra titlen, at det også findes i peber-rørhat. Det er ikke en svamp, jeg har ledt efter til farvning, men tippet er hermed givet videre.
Bruskbolde har en mørk eller sort sporemasse indeni, som er omgivet af en ydervæg af relativt beskeden tykkelse. Jeg bestemte mig for at lave et lille eksperiment for at se, om der overhovedet er pigment i sporerne. Hvis ikke, så kunne man jo bare lade dem ligge i skoven.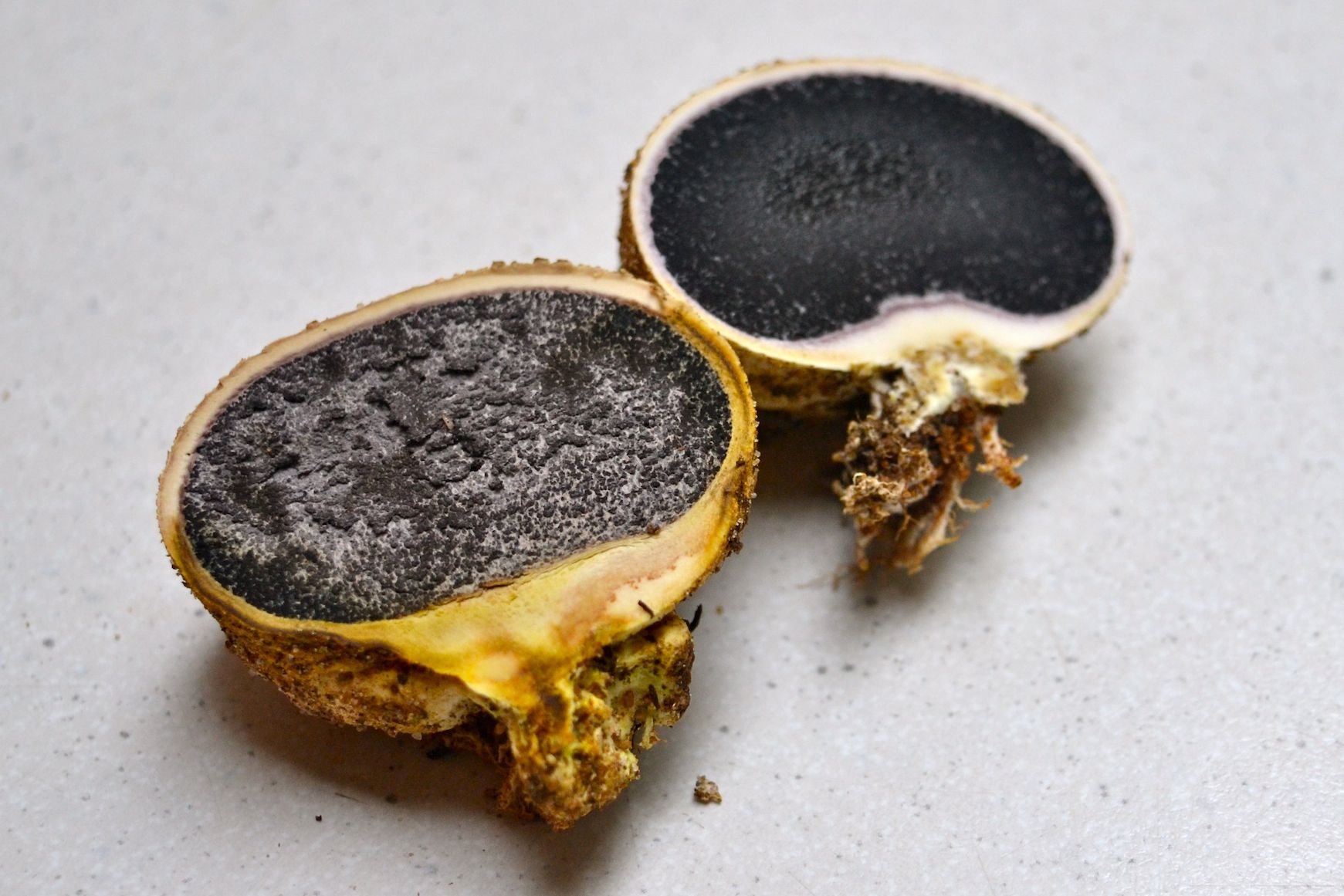 Til mit eksperiment brugte jeg et lille antal bruskbolde, jeg samlede i løbet af efteråret 2016 (det var ikke et ret godt år for bruskbolde). De har været tørret indtil nu.
Det var utrolig svært at adskille svampekødet fra sporemassen i de tørrede svampe, men det lykkedes, og jeg endte med 23 g ydervæg og 10-11 g sporer. Begge dele satte jeg i blød natten over, ydervæggene bare ved at hælde vand på. Sporerne var klumpet sammen i stenhårde klumper, så jeg startede med at morte dem. De virker vandafvisende, så jeg vådtede dem derefter med en stor sjat husholdningssprit, og fyldte efter med vand.
Næste dag kogte jeg de to farvebade op, og løb spore-badet igennem et kaffefilter. Det tog virkeligt lang tid for væsken at løbe igennem, sådan er det altid når man filtrerer en opløsning med så små partikler. Jeg farvede så et 10-grams alunbejdset testnøgle (af Fenris 100% uld) i hvert af badene, og det gav resultatet nedenfor – næsten samme farve i de to tilfælde.
Det øverste garn i billedet er farvet med svampens ydervæg, det nederste med sporerne. Jeg havde jo håbet, at sporerne ikke indeholdt nogen farve, men sådan er det altså ikke. Det er i princippet ikke nogen overraskelse at sclerocitrin og de andre pigmenter er fordelt i hele svampen, og at sporernes meget mørke farve altså ikke har noget med farveevnen at gøre.
Konklusionen bliver altså, at hele svampen indeholder farve, og at man smider en del god farve ud, hvis man ikke tager sporerne med. Så mit bedste bud på en god metode til farvning med bruskbolde bliver at tage hele svampen med, evt. vådte sporerne med sprit, og så investere den tid det nu tager at filtrere hele farvebadet før garnet kommer i.