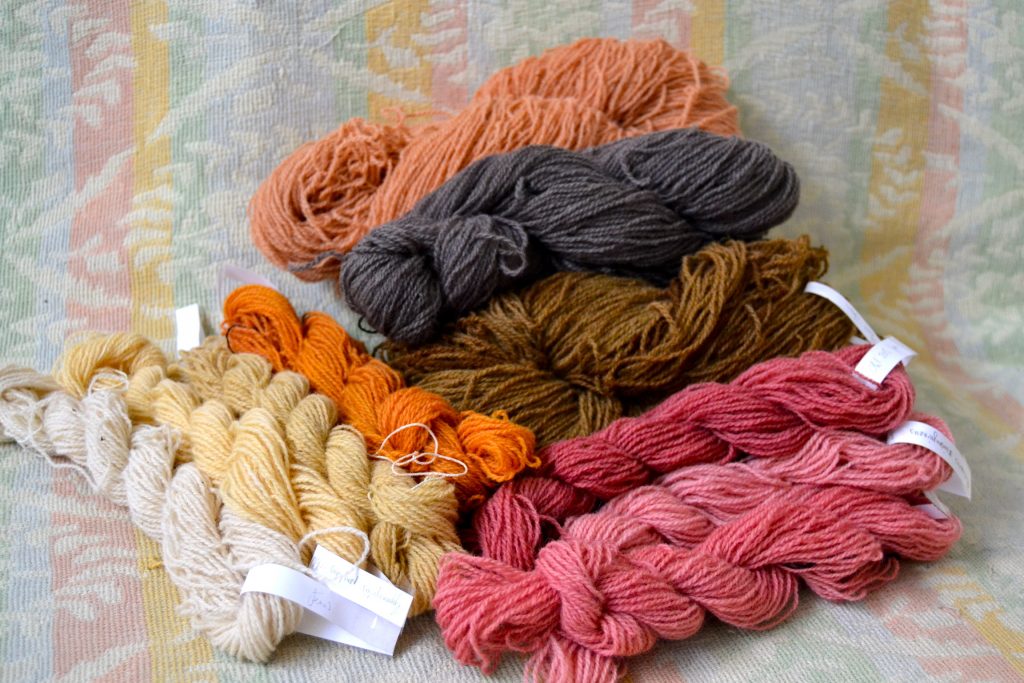 Nu har vi sagt farvel til 2015 og goddag 2016, men jeg kan vist godt lige nå at vise jer de svampefarver, som 2015-høsten bragte.
2015 is history, and it's now 2016, but I think there's just time to show you my mushroom dyeing of 2015, which brought a quite nice mushroom harvest.

Efteråret er og bliver min yndlingsårstid. Farverne, duftene, lange skovture. Vi tager til Nordjylland hvert efterår for at lede efter svampe, og i år var ingen undtagelse. Heldigvis har det nationale testcenter for vindmøller ikke forstyrret svampene! Og jeg synes faktisk de er flotte, vindmøllerne, når man ser dem stikke op over trækronerne. Det pynter da også endnu mere på dem at de er med til at sikre, at vi kommer til at leve op til 40% reduktionen i CO2-udslip i 2020…
Fall is my favorite time of year. Always has been. It's the colors, the scents, and the long forest walks. We go to the same plantation in the northern part of Denmark every year, and this year was no exception. Part of the area has recently been turned into a test center for wind mills, but luckily, the windmills didn't disturb the mushrooms! And they actually please the eye, the windmills, as they peek over the trees – especially when you consider their part in ensuring that Denmark will actually live up to its climate goal of 40% CO2 reduction in 2020.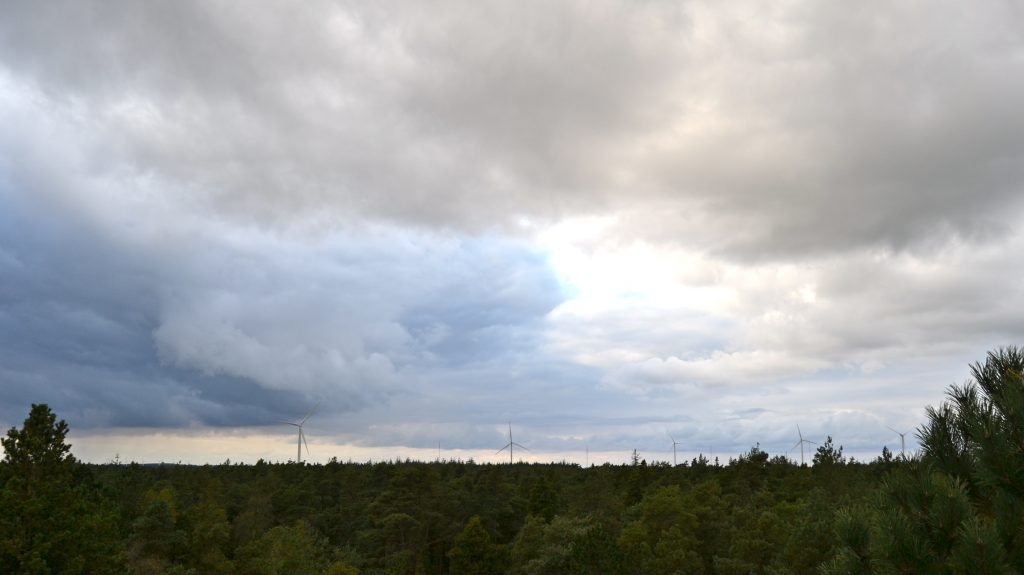 Min familie har jaget spisesvampe siden før jeg blev født, men altid fra et sikkert lille repertoire på omkring 5 arter. Nummer 1 på listen har altid været kantarellen – man kan absolut ikke forveksle den med noget giftigt, og så er det måske den lækreste spisesvamp.
My family already picked mushrooms before I was born, but always for eating, and always from a small, safe repertoire of about 5 species, with the main emphasis on the chanterelle, because it is very tasty and very easy to recognize.
Vi leder stadig efter spisesvampe, og vi træner også næste generation til det. Se bare hvor min 5-årige datter arbejder for føden:
We still hunt for edible mushrooms, and we are even training the next generation. See what an expert chanterelle hunter my 5-year old is: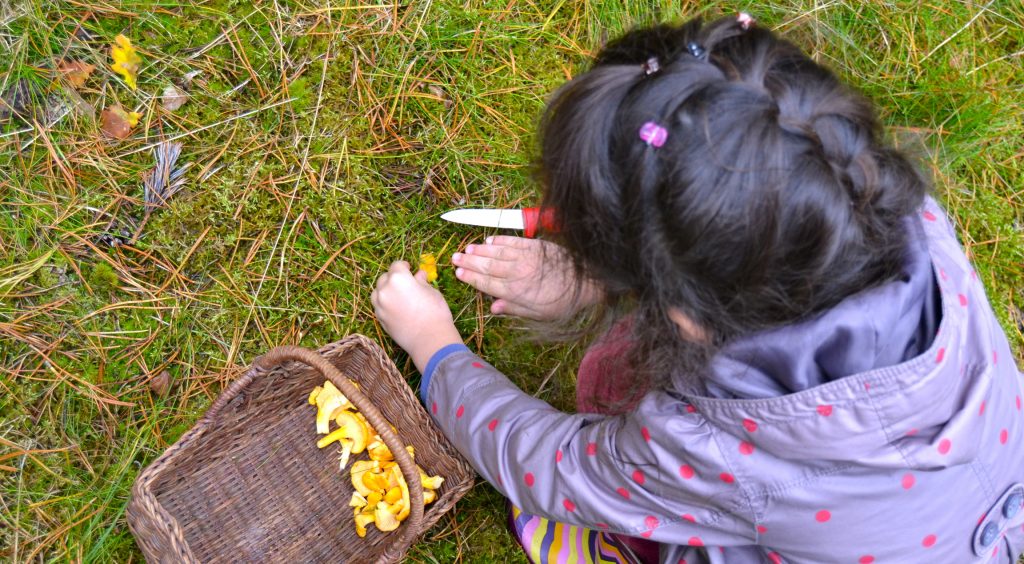 Men nu leder jeg også efter farvesvampe når jeg går i skoven, og det gør det endnu sjovere – nu finder jeg altid noget spændende! Her er det garn jeg har farvet med svampe dette efterår:
But these days I also hunt mushrooms for dyeing, and that makes it even more fun to walk in the forest – I always find something interesting! This is the yarn I've dyed with mushrooms this fall: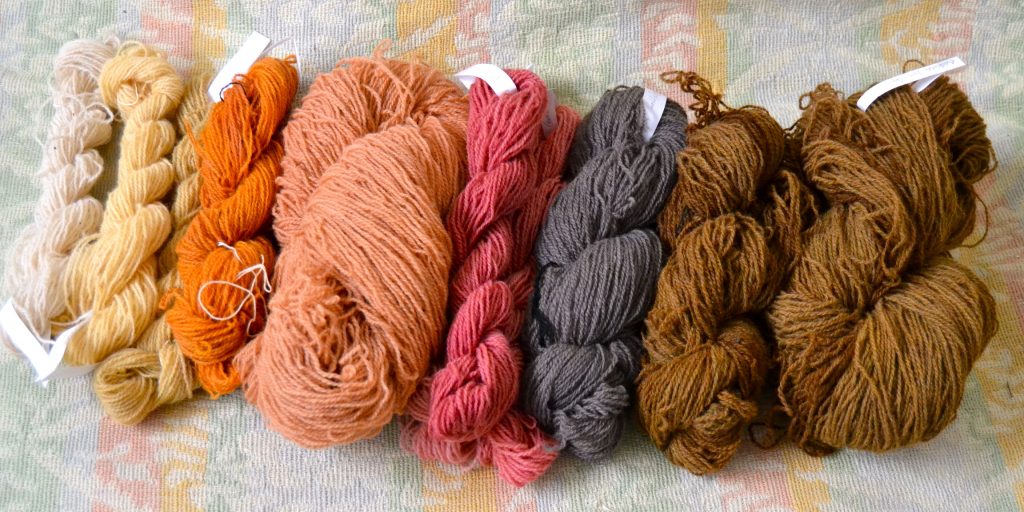 Jeg er så tilfreds med mine svampefarver denne gang, og jeg går og overvejer et projekt, hvor jeg kan bruge alle farverne sammen.
I'm really happy with this lot, and I'm thinking about a project where I could use all these colors together.
Fra højre til venstre, så er det almindelig bruskbold (brunt, 900 g svampe på 150 g garn), sortfiltet netbladhat (grøngrå), cinnoberbladet slørhat (rosa) og nogle blandede slørhatte (beige-laksefarve).
From right to left, they are dyed with common eartball (brown skeins, 900 g of mushrooms on 150 g of yarn), velvet pax (green-grey), Cortinarius semisanguineus (rose), some mixed Cortinarius ssp (tan).
Jeg ved ikke hvad de hedder, de svampe som gav den orange farve. Jeg tog ikke billeder af dem, men jeg tror det var slørhatte. Her er det orange garnnøgle sammen med et opslag i min store svampebog – det viser nogle svampe, som jeg tror det kunne være. De fleste af dem er meget giftige, og det er svært at kende de forskellige slørhatte fra hinanden, så det er en god regel at holde alle slørhatte separat fra de svampe man har tænkt sig at spise!
I don't know which mushroom the orange skein is dyed with. I didn't take pictures of it, but I think it was a species of Cortinarius. Here's the orange skein seen on a page of my big mushroom book with some species that it could possibly be, most of which are really poisonous. It's hard to tell different types of Cortinarius apart, and some of them very poisonous, so always keep them apart from food mushrooms!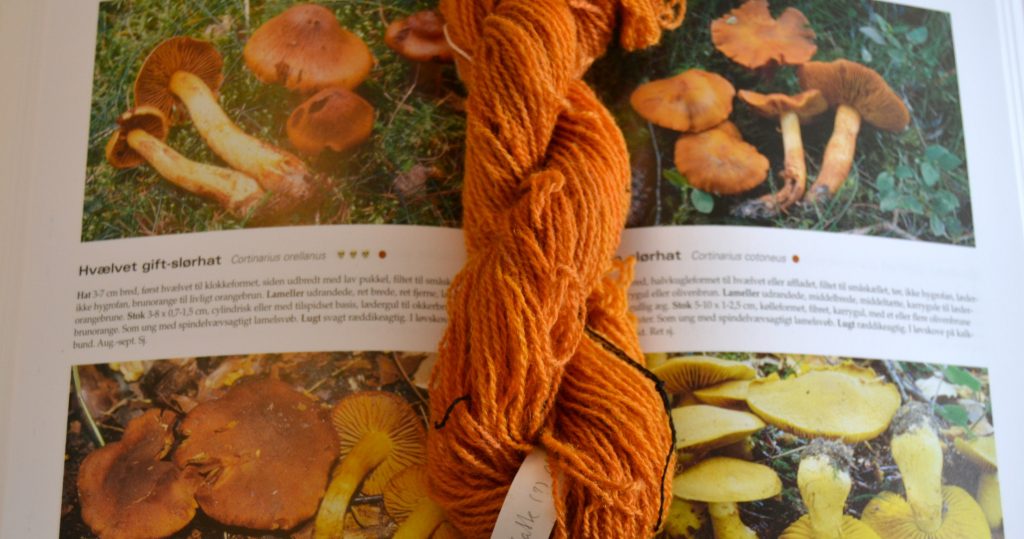 Det lysegule nøgle er farvet med plettet flammehat (Gymnopilus penetrans). Det er en meget almindelig svamp, og efter at have gået igennem en hel skov af dem plukkede jeg til sidst nogle. Det er nu ikke nogen stor farvesvamp. Den gule farve kan man jo få på 117 andre måder, og der er ikke store mændger af den i svampen.
The light yellow skeins were dyed with common rustgill (Gymnopilus penetrans). It's a very common mushroom, and after walking through an entire forest of them, I finally picked some. After trying it in the dyepot, I don't think it's a spectacular dye mushroom. There's a number of ways to achieve this yellow color, and it's not very abundant in this mushroom.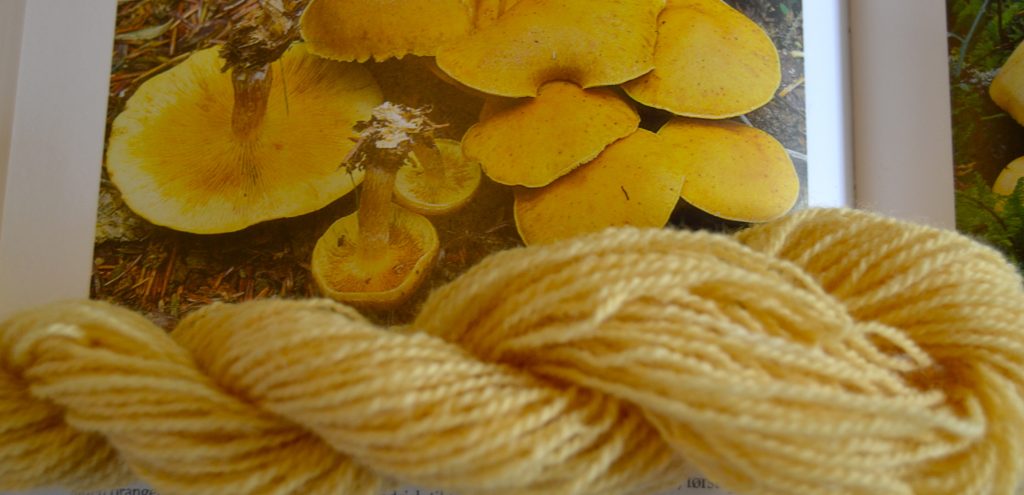 Jeg fandt også masser af knippe-svovlhat (Hypholoma fasciculate), som også er en middelmådig farvesvamp, der indeholder relativt lidt af denne almindelige farve.
I also found a lot of sulphur tuft (Hypholoma fasciculate) which I find to be a mediocre dye mushroom, since it gives just another yellow, and not even a lot of it.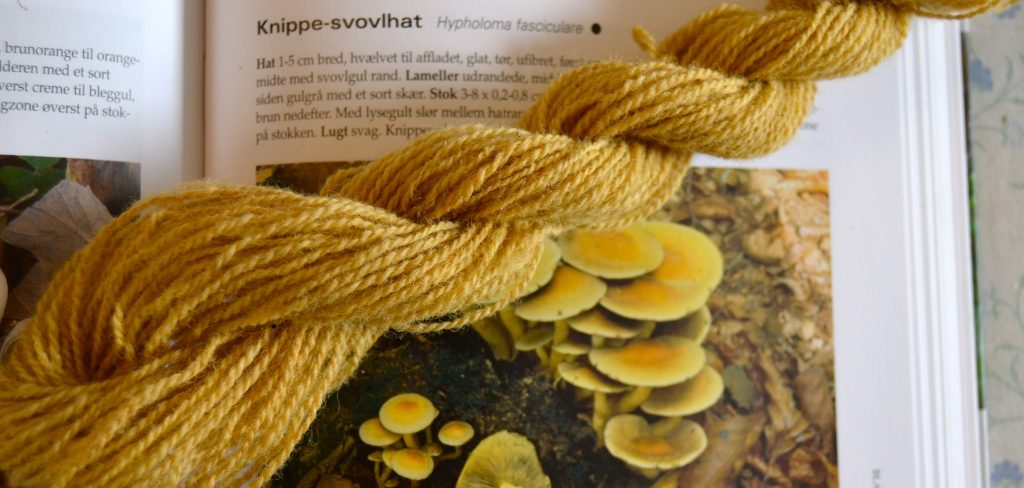 Det sidste nøgle kan nok bedst beskrives som råhvidt… Det prøvede jeg at farve med lilla ametysthat, selv om jeg nok godt anede at det ikke ville virke.
The last skein is best described as "off white". I tried to dye it with purple deceiver although I sort of knew it wouldn't work.

Det er en mægtig pæn svamp, synes jeg, som den står der på skovbunden – men desværre kan man lige så godt lade den pynte der. Den lilla farve forsvinder når man gemmer svampene et par dage, eller kan sågar gå af i regnvejr mens svampen stadig gror. Så det er nok ikke den store overraskelse, at selv en stor mængde lilla ametysthatte overhovedet ikke giver nogen farve til garnet. Men nogle gange kan det jo være fint at tjekke sådan noget selv.
They look so pretty on the forest floor, but unfortunately, you're best off just leaving them there. The purple color is indeed deceitful. It vanishes when you store the mushrooms for a couple of days, it even vanishes if it rains on them while they are still growing. This last fact tells you to give up right away. Predictably, even a large amount of mushrooms give no color on yarn, but I guess sometimes the true experimentalist has to verify the obvious.

Save
Save
Save
Save
Save
Save