Temaet fra mit Vindauga-tæppe blev ved med at køre rundt i mit hovede efter at jeg strikkede det første tæppe, og det krævede simpelthen at blive strikket i nogle flere varianter! Da designprincippet i Vindauga stødte sammen med mine forsøg med at farve 2-dimensionelle gradienter (eller matricer) endte det med Vindauga babytæppet, som jeg nu endelig er færdig med at skrive mønsteret til.
Mønstret kan købes på Etsy eller på Ravelry. Jeg har desuden farvet et lille antal kits, som er i min Etsy Shop, i farverne Sif (lilla-blå med cochenille og indigo – udsolgt), Valkyrie (rød-blå med krap og indigo) og Njord (grøn-blå med vau, grå bynke og indigo).
The design theme from my Vindauga Blanket just stayed in my brain after I knit the first one, demanding to be knit in more variations! And when that design theme met with my experiments in 2-dimensional gradients (or matrices), the result was the Vindauga Baby Blanket, which I've finally managed to publish the pattern for.
You can buy the Vindauga Baby Blanket pattern on Etsy or Ravelry. I've also dyed a small number of kits, you can find them at my Etsy shop. The colorways are Sif (purple-blue dyed with cochineal and indigo – sold out), Valkyrie (red-blue dyed with madder and indigo) and Njord (green-blue dyed with weld, mugwort, and indigo).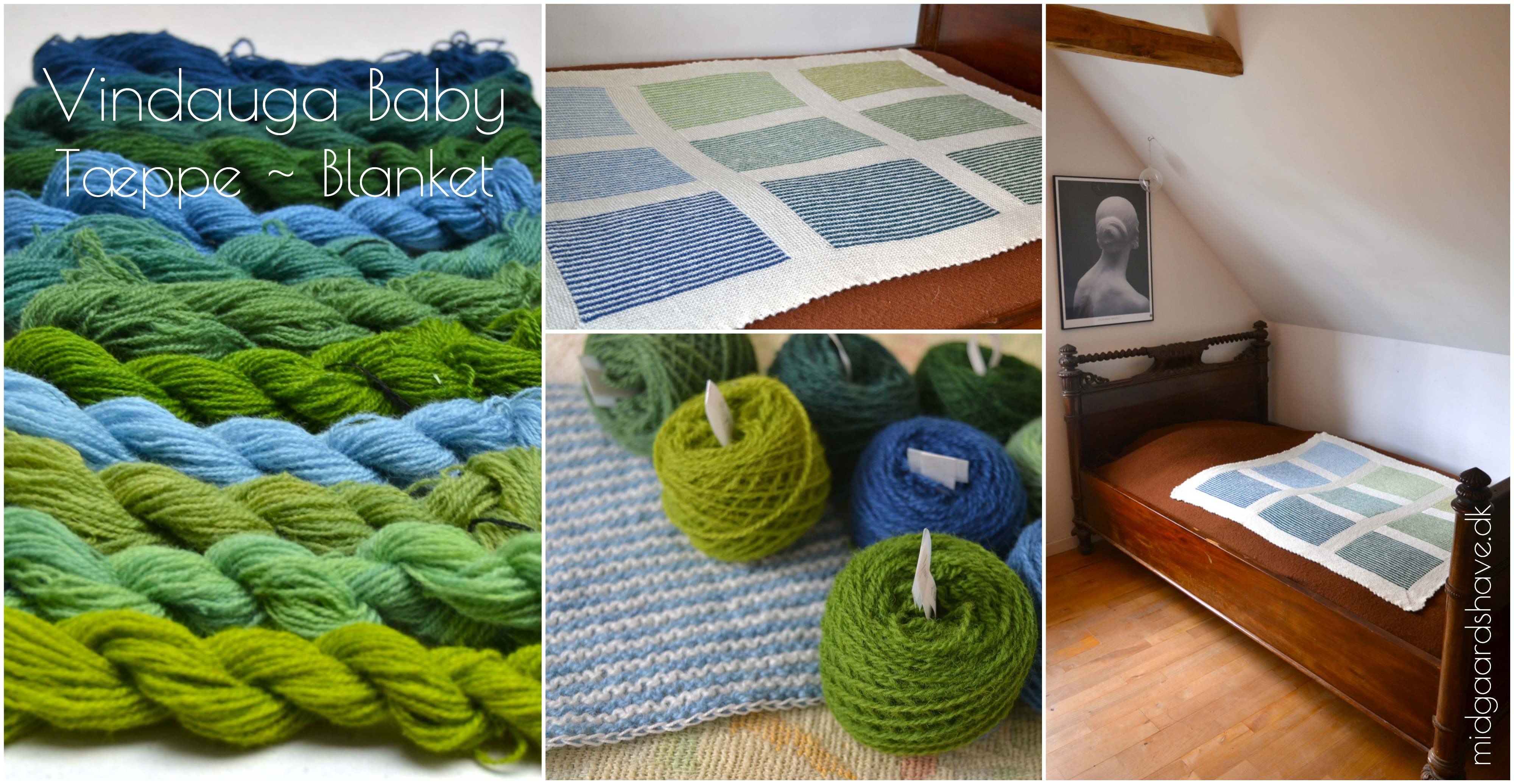 Mønsteret er skrevet, teststrikket, rettet, rettet og rettet, og endelig skrevet helt færdigt på dansk og engelsk. Jeg indrømmer blankt, at selve det at lave mønsteret færdigt ikke er min yndlingsdel af processen fra ide til udgivet mønster. Men uden at få taget sig sammen og lavet det helt færdigt, så ender det jo netop bare som en ide i mit hovede.
Til gengæld er det fantastisk sjovt at matrixfarve mini-nøglerne i 9 farver i glidende overgang. Jeg har efterhåndet arbejdet med disse 2-dimensionelle gradienter et  stykke tid, men jeg synes, det bliver ved med at være svært at få dem helt rigtige!
Først farver jeg gradienter af røde, pink eller gule farver med krap, cochenille, vau, rejnfan eller grå bynke, så jeg har 3 nøgler af hver indfarvning. Bagefter overfarver jeg med en gradient af indigo, så hver af de 3 nøgler i en indfarvning får en forskellig indigo-overfarvning. Det lyder måske ikke så svært, men begge trin er faktisk svære at styre.
Med cochenille og krap giver 1. bad altid meget mere farve end 2. bad, men nogle gange giver 2. og 3. bad stort set samme farve. I indigo-overfarvningen er det også svært at styre hvor mørk farven bliver, for der er flere faktorer i spil. En ting er hvor længe nøglerne bliver dyppet, en anden hvor mange gange. Men der er også mængden af indigo i gryden, som ændrer sig efterhånden. Selv om jeg har lavet matrix-farvningerne mange gange nu, så er det stadig en udfordring!
I've now written the pattern, had it test knit, and corrected over and over again. It's finished, and now published in Danish and English. I'll be the first to admit that actually finishing a pattern is not my favorite part of the process from idea to pattern. But if I don't pull myself together at some point, then my ideas end up as just that – ideas in my head.

But dyeing the matrix mini skeins is a lot of fun. I've worked with these 2-dimensional gradients for some time now, but it's still difficult to get them just exactly right!

First, I dye gradients of red, pink, or red with madder, cochineal, weld, tansy, or mugwort. I make 3 skeins of each. Then, I overdye with an indigo gradient, giving each of the 3 identical skeins a different indigo overdye. This may not sound difficult, but both steps are hard to control.

When dyeing with cochineal and madder, I find that the first bath always gives a more intense color than the second one. But sometimes, the second and third give about the same. It's also difficult to control the exact shade of blue with indigo dyeing. One factor is how long you dip skeins in indigo, another factor is the number of dips. But the amount of available indigo in the vat also changes over time. Even after making many sets of matrix dyed skeins, it's still a challenge!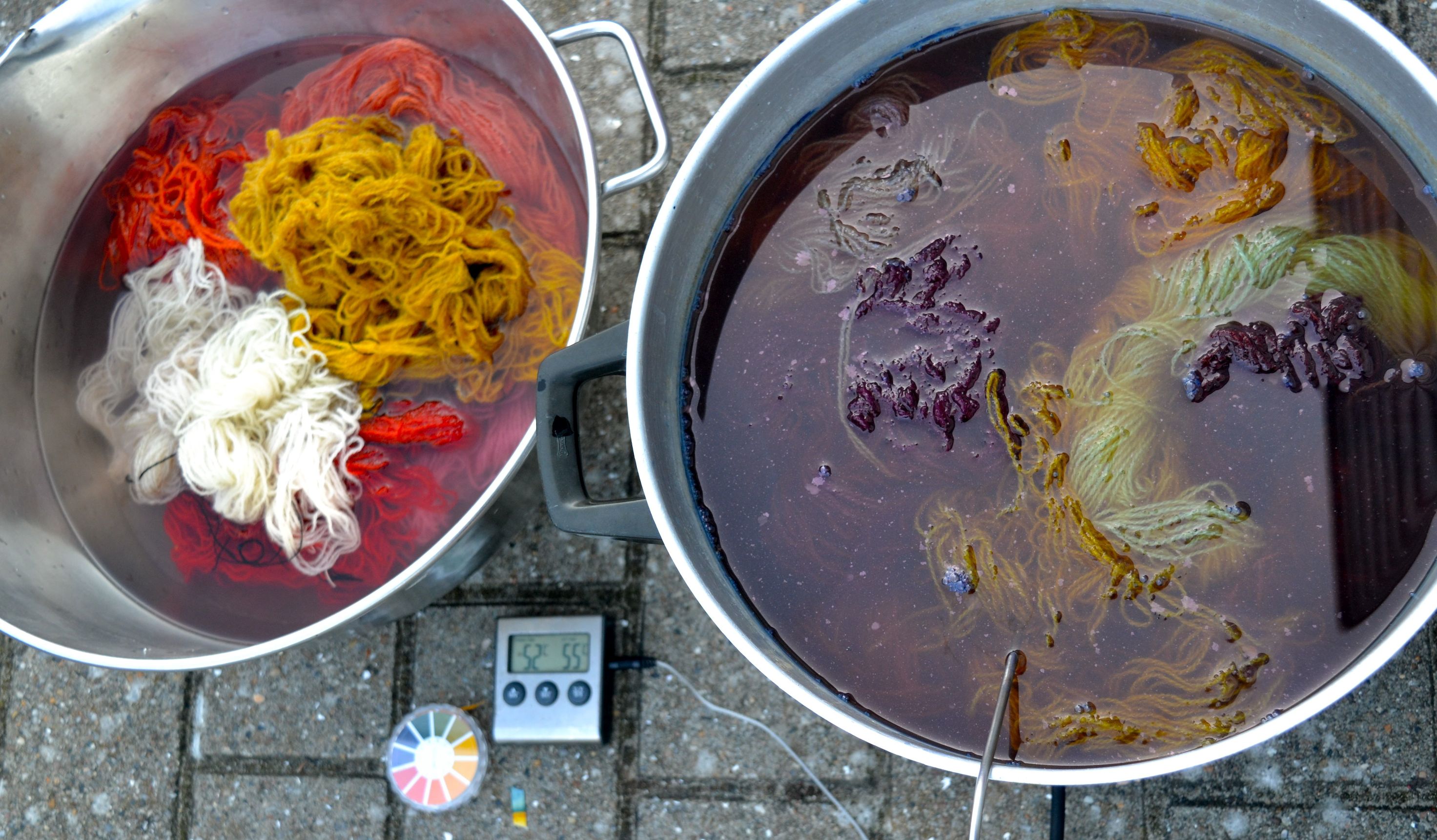 Se projekter på Ravelry:
See projects on Ravelry:
Save
Save
Save
Save
Save
Save
Save
Save
Save
Save
Save
Save
Save