Krap er en af de allerældste farver, og er beskrevet i stort set alle bøger om naturfarvning. Men alle bøgerne giver forskellige metoder til at opnå den eftertragtede, mættede kraprøde farve. Der er kun en ting at gøre – eksperimentere!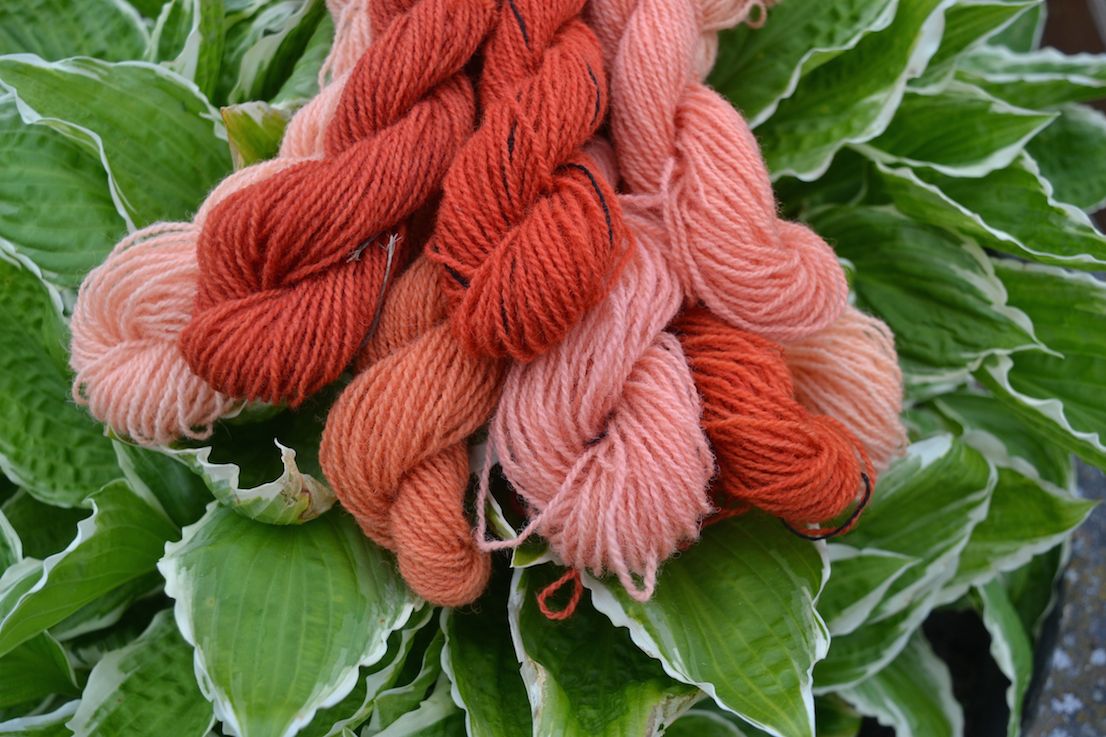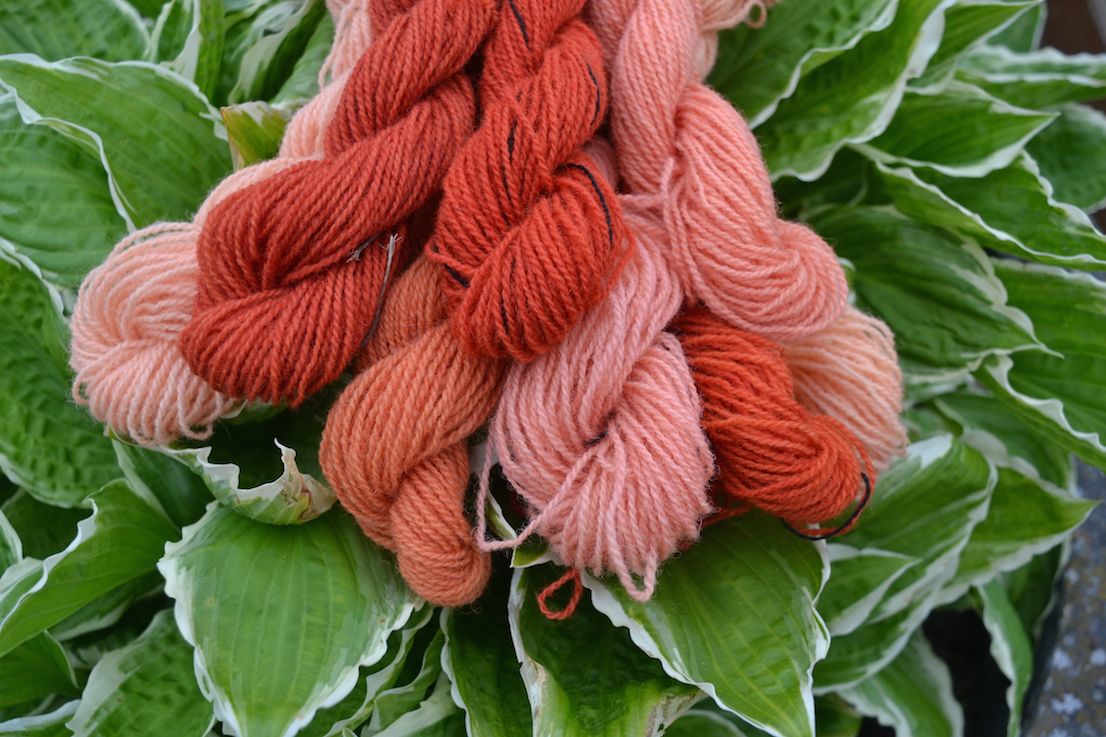 Krap var faktisk en af de første naturfarver, jeg prøvede kræfter med, for nu mange år siden. Jeg fulgte "Colours from Nature" af Jenny Dean, som var den første farvebog, jeg anskaffede mig (nu har jeg selvfølgelig et helt bibliotek).
Dean opgiver en opskrift for lidt større stykker af kraprod, ikke pulveriseret rod. Hun skyller først i koldt vand, så i kogende vand, og kommer først derefter det vand på, som bliver til selve farvebadet. I mine tidlige forsøg med krap forsøgte jeg at følge den metode, men fik i flere forsøg kun en serie af laksefarver. Nogle gange i rosa retning, nogle gange mere i orange retning.
Efter mine tidlige forsøg var jeg klar til at give op. Laksefarvet var ikke ligefrem min yndlingsfarve. Jeg lod faktisk naturfarvning ligge i nogle år, men faldt så et par gange i snak med farvere på jernalder- og vikingemarkeder. En af dem fortalte mig, at hun altid fik klare røde farver med krap ved at bruge destilleret vand.
Derefter fik jeg fat i Ester Nielsens klassiske bog fra 1972, "Farvning med planter". Nielsen skriver at rødderne skal udblødes i et døgn, og hun nævner ikke noget om udskiftning af vandet. Hun nævner heller ikke noget om hvilken slags vand hun bruger. Efterhånden kom jeg frem til en variant af Nielsens fremgangsmåde, med regnvand i stedet for destilleret vand, fordi regnvand er gratis. Jeg lader krappen stå i blød natten over i farvegryden, tilsætter alun-bejdset garn, varmer langsomt op til 55 grader og pakker så gryden ind i et tæppe og lader den stå til næste dag. Garn og rødder er altså i gryden sammen, og der bliver kun brugt et hold vand.
Med den metode har jeg mange gange fået den klare røde, som man er ude efter. Men mange gange er farven også endt i mere orange toner, som f. eks. garnet til huen her:
Jeg kan godt lide orange, men det er den røde, som er det ypperligste fra krappen. Desuden er jeg blevet mere og mere forvirret, jo mere jeg har læst om farvning med krap, og jeg er ikke den eneste. Dean bruger som nævnt varm ekstraktion (altså udblødning i et hold vand, som kasseres) mens andre, f. eks. Ecotone Threads bruger en kold ekstraktion.
Krap indeholder mange forskellige farvestoffer. Ifølge "Handbook of Natural Colorants" af Berchtold & Mussak, så er der påvist mere end 35 forskellige anthraquinoner i krap (anthraquinoner er den type af molekyler, som alizarin, det vigtigste røde farvestof i krap, også hører til). De forskellige stoffer har lidt forskellig farve, og meningen med en (kold eller varm) ekstraktion skulle altså være, at man fjerner  gule og brunlige farver.
Jeg bestemte mig for at afprøve, om jeg kunne komme mine orange toner til livs med ekstraktion. Jeg brugte mine sædvanelige 12-grams testnøgler af Fenris (100% uld), som jeg bejdsede med 10% alun. I alle tilfælde brugte jeg 12 g pulveriseret krap pr. nøgle, og lod krappen blive i farvegryden hele tiden. Nogle få forfattere skriver, at man skal fjerne den før selve farvningen, men de fleste er enige om, at krappen skal blive i gryden
Ifølge Liles' "The Art and Craft of Natural Dyeing", så er alizarin kun ganske lidt opløseligt i vand, og derfor giver det god mening at lade krappen blive i gryden. Så kan der langsomt opløses mere alizarin efterhånden som det opløste bliver bundet til garnet. Jeg farvede også i alle tilfælde ved at varme krap og garn op til ca 55 grader, holde temperaturen i 1 time, og lade garnet stå i farvebadet til næste dag.
I mit lille eksperiment afprøvede jeg følgende, både med regnvand og med vandhanevand: at sætte krappen i blød natten over og farve uden at skrifte vandet ud, at sætte krappen i blød natten over i koldt vand, filtrere det fra og farve i et nyt hold vand, og endelig at hælde kogende vand over krappen og så farve i et nyt hold vand.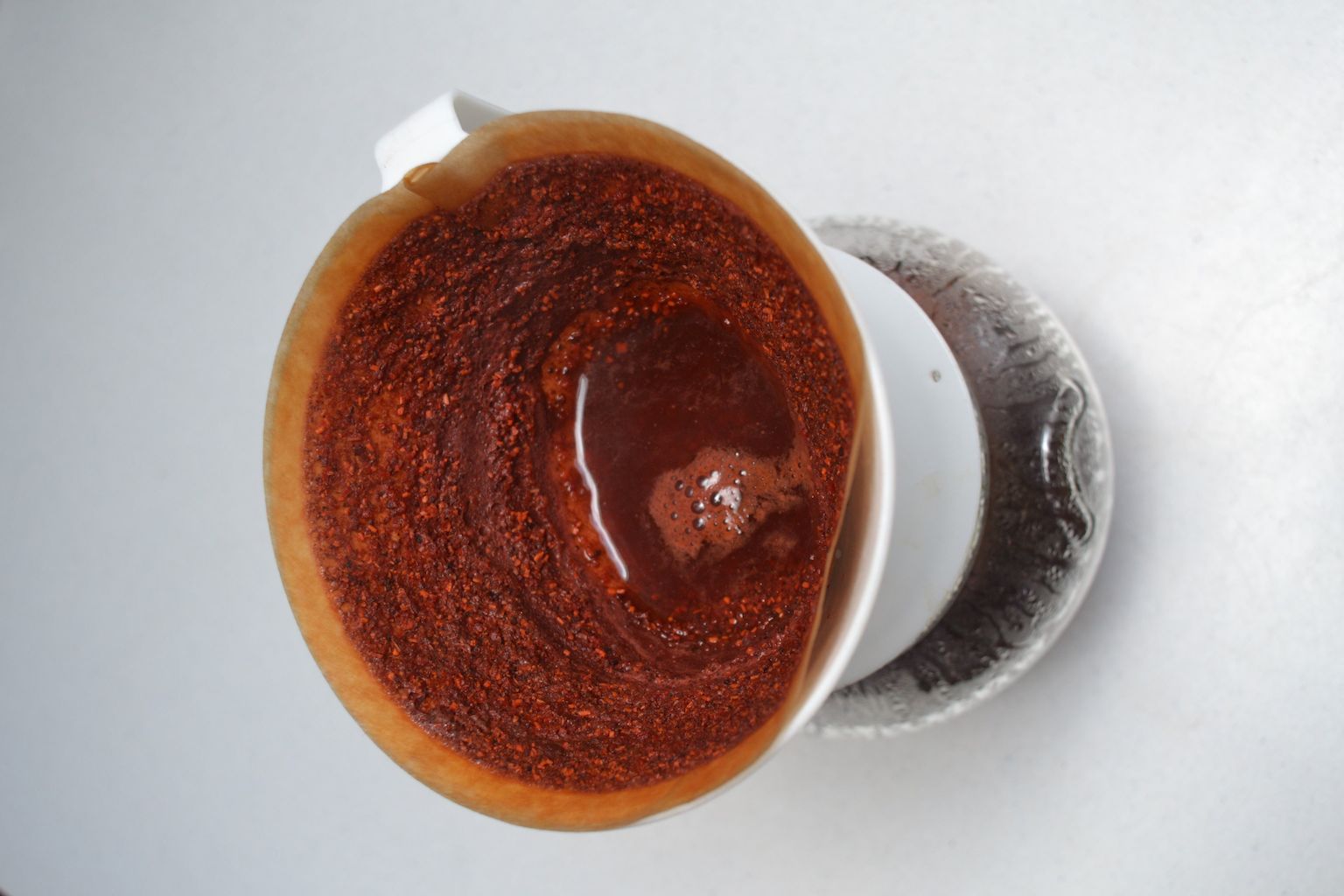 Resultaterne ses nedenfor:
1: Krap sat i blød natten over i regnvand og garnet farvet uden at skifte vandet ud.
2: Krap sat i blød natten over i vandhanevand og garnet farvet uden at skifte vandet ud.
3: Krap sat i blød natten over i regnvand, filtrering, garnet farvet i et nyt hold regnvand.
4: Gennemløbet fra 3 (alså den væske der løb igennem filteret).
5: Krap sat i blød natten over i vandhanevand, filtrering, garnet farvet i et nyt hold vandhanevand.
6: Gennemløbet fra 5 (alså den væske der løb igennem filteret).
7: Kogende vand hældt over krappen, filtrering med det samme, garnet farvet i et nyt hold regnvand.
8: Kogende vand hældt over krappen, filtrering med det samme, garnet farvet i et nyt hold vandhanevand.
9: Gennemløbet fra 7 (ikke gentaget for 8, da det ville være identisk).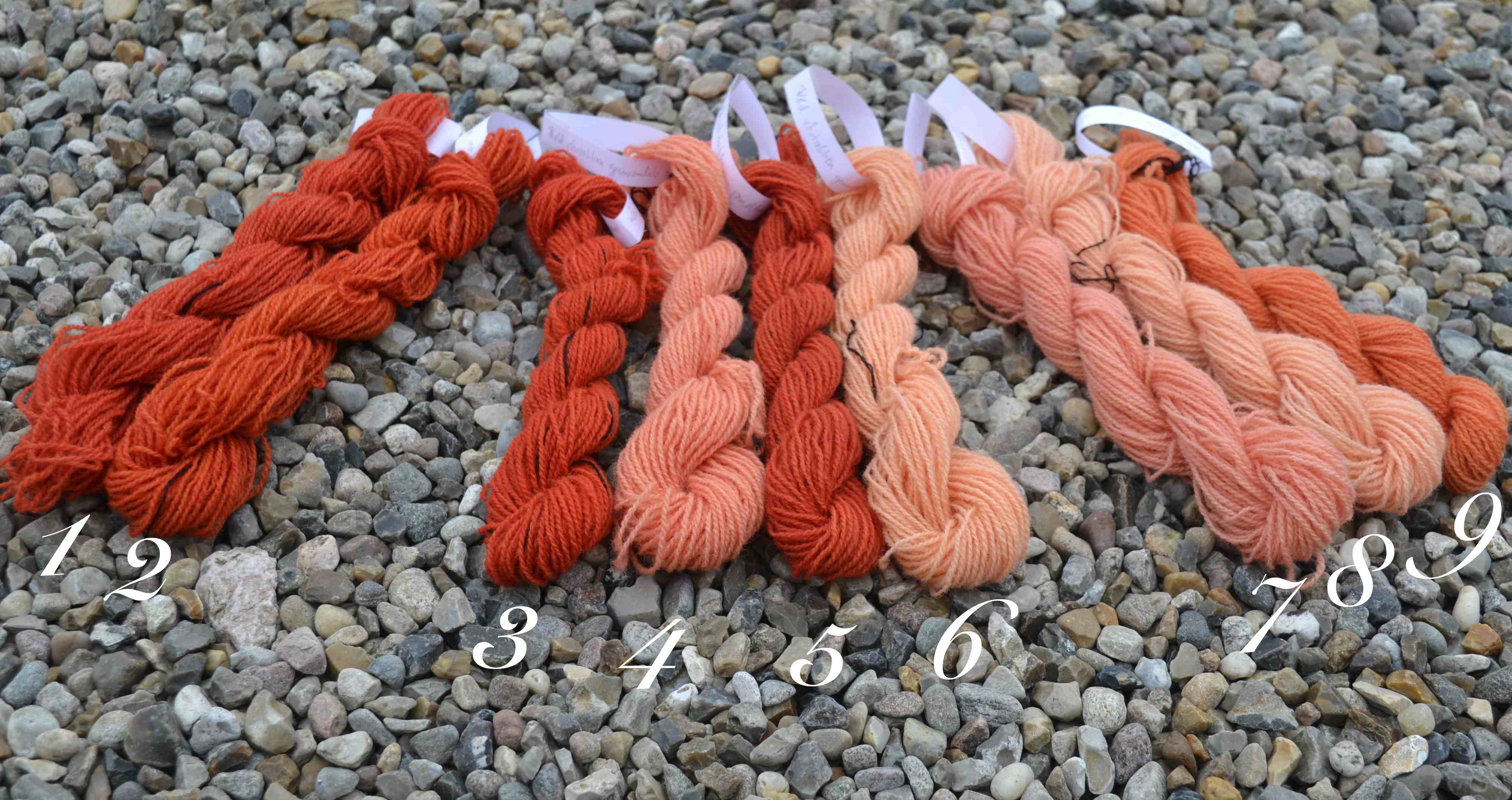 Nøgle 1 er farvet med et hold regnvand, og det er den metode, jeg plejer at bruge. Heldigvis er nøgle 1 en af de gode røde i testen. Nøgle 2 er samme metode, men med vandhanevand. Nøgle 1 er kun lidt rødere end nøgle 2, så brug af regn eller vandhanevand har åbenbart ikke den store betydning, som jeg ellers troede. Jeg målte pH i begge badene, og de var begge to neutrale efter at have stået natten over.
Nøgle 3 og 5 er farvet med krap, der stod i blød natten over, hvor jeg fjernede det første hold vand. Hvis det var rigtigt, at sådan en kold iblødsætning fjernede gule og brune farver, så skulle der være forskel på nøgle 1 og 3 (begge farvet i regnvand) og nøgle 2 og 5 (begge farvet i vandhanevand), men det er der ikke. Min konklusion er altså, at en kold ekstraktion ikke fjerner gule og brune farver.
Den konklusion virker også rigtig, når man kigger på nøgle 4 (regn) og 6 (vandhane), som er farvet med gennemløbet fra 3 og 5. Hvis ekstraktionen fjernede gul og brun, så skulle nøgle 4 og 6 jo have de farver, men det har de ikke. De er koral/laksefarvede, som netop er de farver, jeg plejer at få i efterbade. Det passer altså med, at den kolde ekstraktion bare fjerner lidt af den samlede farve, der er til stede i krappen.
Endelig er der den varme ekstraktion. Nøgle 7 (regn) og 8 (vandhane) er farvet med nye hold vand, efter at jeg lavede den varme ekstraktion. De er ret svagt farvet, i toner som nærmest er identisk med farverne på nøgle 4 og 6. Det meste af farven er altså tilsyneladende væk efter den varme ekstraktion, og er endt i gennemløbet, som nøgle 9 er farvet med.
Nøgle 9 har en god kraftig rød-orange farve, som egentlig ikke er en overraskelse. Temperaturen er nemlig stort set det eneste, alle forfattere er enige om. Den må ikke blive for høj, for så kommer orange eller teglfarvede toner frem, og det er det, jeg ser her. Hvis lysægtheden skulle vise sig at være god, så er det varme gennemløb faktisk en god måde at farve orange på.
Det er også rart at se, at min lille test her passer med de allertidligste forsøg, jeg gjorde på at farve med krap. Deans metode svarer jo til nøgle 8, en bleg laksefarve, som vil være en skuffelse hvis man er ude efter rød.
Så opsummeringen af mit lille forsøgs konklusioner er:
Der er ikke ret stor forskel på de røde farver fra regnvand og vandhanevand, regnvandet giver en rød, som kun er en lille smule bedre end vandhanevandet. Denne konklusion gælder mit vandhanevand, og kan være helt anderledes andre steder.
Kold ekstraktion er ikke effektiv til at fjerne gule farver, og varm ekstraktion fjerner nærmest al farven.
Jeg plejer at holde temperaturen omkring 55 grader, men jeg har ikke selv tjekket, hvor følsom farven egentlig er overfor højere temperatur. Og jeg har overhovedet ikke taget pH og kalkindhold med i denne omgang. Det skal mine næste eksperimenter handle om.