I'm in hat knitting mode right now! As soon as this hat was finished, I had the next one on the needles. The pattern, a Danish one called "hue 1" (that just means hat 1, the book has more than one hat) really makes my brain go berserk with color scheme after color scheme.
I've cheated a bit since I didn't only use naturally dyed yarns for this project: the black background consists of different commercial yarns from my stash.
FACTS – GRADIENT HAT
Pattern "hue 1" by Lone Gissel and Tine Rousing, Nordiske Masker
Yarn Supersoft 100 % wool 575 m / 100 g, naturally dyed + black yarn from stash
Needle 4,5 mm
Colors Privet berries (from our garden, winter) Indigo + tansy (bought + collected from the roadside, summer) Reed flowers on grey yarn (collected from the seaside, summer) Yarrow (collected from the roadside, summer) Mixed lichens (collected in the forest – this was bits and pieces I couldn't type and in the end just swept into the dye pot) Parmelia sulcata (a lichen, collected in the forest) Dyer's polypore (Phaeolus schweinitzii, a mushroom, collected in the forest, fall)
Conclusion Love it! The colors, the fit, the fox fur.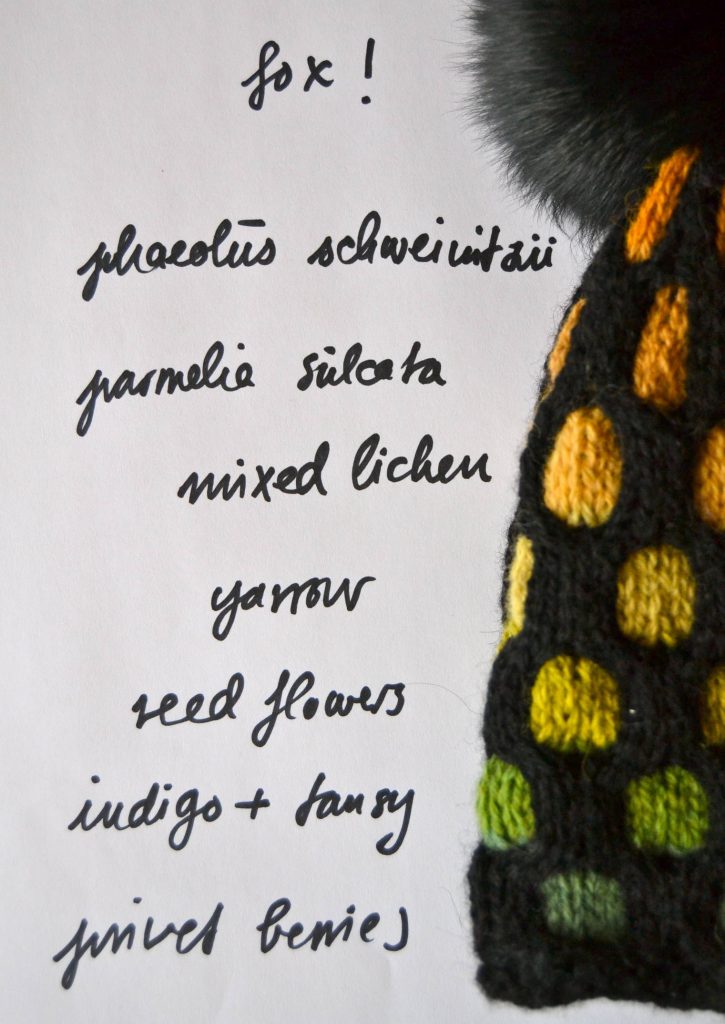 It's often been said that any naturally dyed colors fit together, and I do think that is the case. I did take some care lining up colors that blended well one into the other, but they were not very hard to find inmy big basket of yarn.
Another observation: I think natural dyeing is the best kind of yarn tourism. When I look at the hat and its colors, I'm immediately taken back to the places where I collected the dye stuffs. Well, not so much the privet berries from our garden, but other wonderful places we walked during the nicest months of 2014. Just one example. The reed flowers are from our august summer vacation in the southern part of Denmark, right on the border with Germany. I picked my flowers by the ocean, and I just had some fun trying to find the exact spot on the map. And I did it! The exaxt coordinates are 54.894576, 9.626491 and you can even see the reed flowers when you zoom in all the way on the map. Right next to a tiny harbor where you can stand on the planks and watch crabs hurrying around on the bottom. And when you look over the water, you can see Germany. Imagine, all that worn on a hat in the form of a stripe of yellow-green yarn!
Save
Save
Save
Save
Save
Save
Save
Save