I lived in Grenoble for 2 years, and everybody there is always talking about walnuts. The region is famous for its walnuts – noix de Grenoble. But I have to admit that I didn't actually see any nuts growing, nor did I eat very many of them while I lived there…
So one day here in Denmark, when I saw a big bag of noix de Grenoble at the supermarket, I just had to buy it. The nuts are eaten a long time ago, but I remembered reading somewhere that the shells can be used for dyeing (in addition, of course to the well known dye found in walnut hulls, but that's another story).
I like the idea of salvage dyes, the dyes you find in something you would have just thrown out. So here they are, about 500 g of walnut shells

Following information from this article, I soaked the shells in water a couple of days, then boiled them for two hours. The next day, I removed the shells and simmered a 10 g alun-mordanted test skein in the dye bath for about an hour. As usual with browns, it looked good while in the bath, but after drying, what I have is just another beige skein: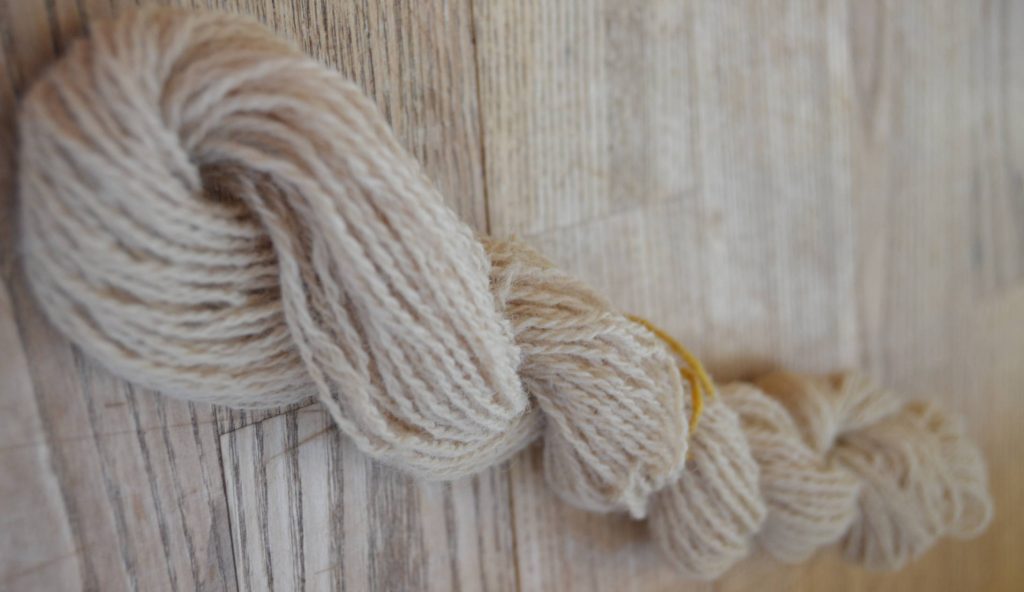 Useful for color knitting, but not very exciting by itself. I had hoped to obtain a deeper brown, but that is, in fact, a difficult color to obtain in natural dyeing.
Yarn Supersoft 575 m/100 g
Conclusion A lousy dyestuff
Possible improvements I don't see any – other than forgetting about the walnut shell and befriending someone with a walnut tree, so I can get my hands on the hulls
Last year, I did get good browns from mushrooms. Here is my fresh weakly beige walnut skein next to a very nice brown from last year: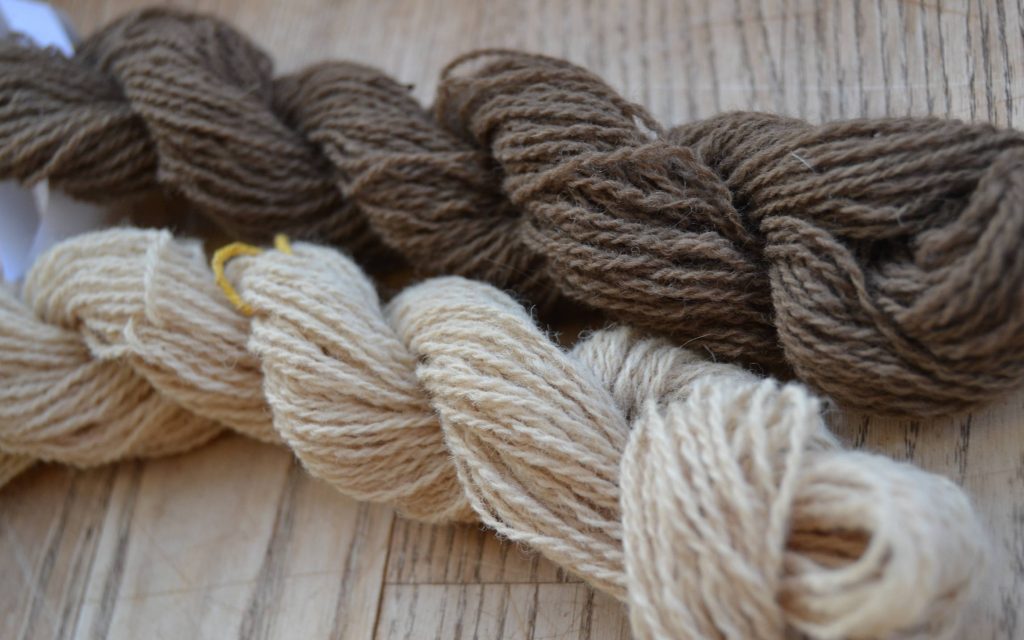 The brown skein is dyed with a mushroom that is quite abundant around here. I've typed it as Ischnoderma benzoinum (gran-tjæreporesvamp) with the help of my Swedish book "Färgsvampar & svampfärgning" by Hjördis Lundmark and Hans Marklund, but it could also be its relative Ischnoderma resinosum (fall polypore, tjæreporesvamp in Danish) . I don't have a picture of the mushrooms I used, but I'll look for it again next fall.
Jeg har afprøvet farvning med valnøddeskaller, men det giver kun en svag beige farve. For at få en god brun fra valnødder, så skal man altså have fat på den grønne del der sidder udenpå selve nødden. Jeg har desværre ikke noget valnøddetræ, men sidste år fik jeg en god brun farve med tjæreporesvamp.
Save